Non-Violent Action: A Force for Change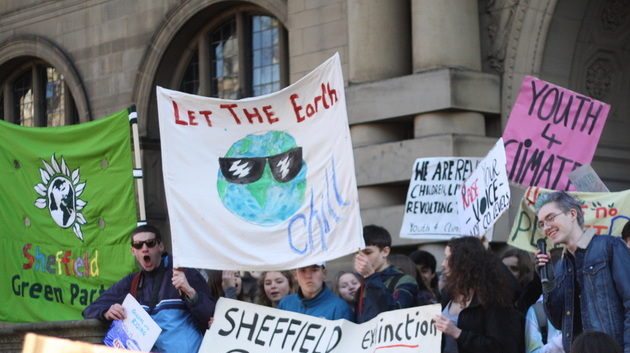 ​Non-Violent Action: A Force for Change is an exciting new curriculum development project funded by Joseph Rowntree Charitable Trust which aims to create a series of lesson plans across different curriculum areas for students aged 8-13 which use Philosophy for Children (P4C) to:
Provide inspiring case studies of groups of people locally and from around the world, past and present, involved in non-violent social change at a variety of levels and for a variety of causes.
Offer pupils ways to think critically about gender issues and enable them to understand that masculinity can be expressed in non-violent ways.
Engage pupils with local and global issues so that they feel motivated to work for change.
Help pupils to decide on actions with a local or global impact and give them the tools to carry them out.
Project update – May 2021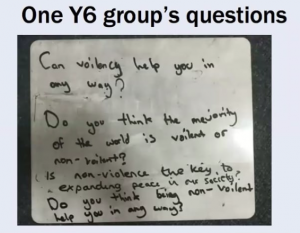 Helen Griffin delivered a workshop about 'Non-Violent Action: a force for change' at the ANGEL network conference on 26th May. These two films below are a summary of her workshop. They are an introduction to the project and a useful overview for finding out more about the project and how you can use the resources in the classroom.
If you are interested in you or your school being involved in this project, please contact Helen Griffin at info@decsy.org.uk
Project update – November 2020
We are now in the third year of this project but are pleased to announce that owing to Covid 19 restrictions delaying some of the work our funder, Joseph Rowntree Charitable Trust, has now funded us for an additional academic year (2021-2022). 
This means that we are able to continue trialling and developing our lesson plans for learners aged 8-14 and are recruiting additional schools to help us with this.   Our current project teachers have so far developed a series of lessons which look at the concepts of violence and nonviolence and provide the following historical case studies to enable learners to explore the efficacy of nonviolent action: 
Otpor, Serbian Independence

World War 2 Resistance: Invasion of Denmark, The White Rose Movement and Rosenstrasse

The Bristol Bus Boycott

The Role of the Arts: English Disco Lovers and Singing Revolution

The Struggle for Independence in India: the Salt March and Khudai Khidmatgar

The Chipko Movement (India), The Green Belt Movement (Kenya) and the Right to Roam (Kinder, UK)
Learners have received these lessons with enthusiasm as two of the teachers involved testify: 
'The children responded very positively to all of the Nonviolent Action sessions, and the case studies promoted a lot of detailed discussion. By the end of the project, the class were motivated to bring about changes they wanted to make in the world, and were knowledgeable on the different types of nonviolent action they could use to achieve this. The activities were pitched well to the age group and the mix of modern and older case studies meant the children were engaged. All children could articulate how each lesson linked to nonviolent action and the aim of creating more tolerant attitudes in the world. The class continued to use their knowledge from the sessions and link this across subjects and to current news events.' (Rebecca, St Catherine's RC Primary)
'I have found the course a great way to systematically introduce and explore meaningful concepts such as violence, nonviolence, protest, resistance and responsibility with children in Key Stage Two – concepts which we need a thorough understanding of now more than ever. There are a wealth of interesting and well-resourced case studies to choose from, from a range of geographical locations and historical periods. Pupils are enthusiastic about their lessons and have a real desire to apply what they have learnt to present day situations.'
Get Involved:
If you are interested in you or your school being involved in this project, please contact Helen Griffin at info@decsy.org.uk
A group of teachers are currently contributing to writing teaching materials which will then be trialled by selected primary and secondary schools from September 2019 to July 2021. These engaging, interactive lessons will then by widely disseminated nationally from 2021 to 2022.