School Linking and Outdoor Learning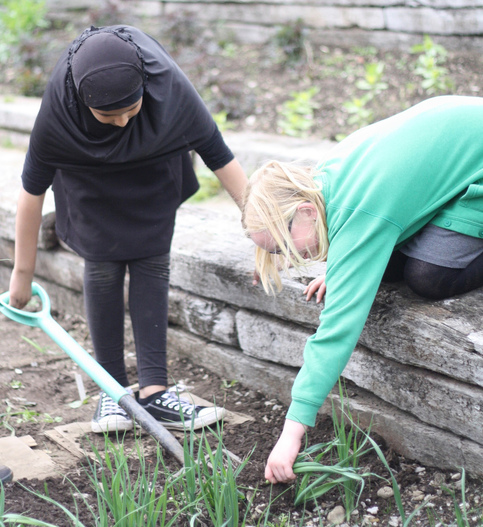 Project Update April 2020 – November 2020 – growing during lockdown
We had been hoping to continue to take Year 5 pupils and their teachers from Valley Park Primary and Nether Edge Primary to get to know each other and learn about growing at Freeman College Organic Farm at High Riggs again from April, but this was not possible due to Covid 19. 
Instead, using funds from the Nineveh Charitable Trust we were able to purchase growing kits for vegetables and herbs with compost from Heeley City Farm for all Year 5 pupils to take home and keep learning diaries to record their growing activities at home.
All the children who collected the plants and seeds really enjoyed working on their miniature gardens. We had over 20 children come to school during full lockdown to collect their plants and gardening equipment. The children were really excited to see how quickly the plants grew and their parents were thankful for something different to do with their children!
Project update – April 2019
For a variety of reasons, this project experienced various delays which meant that Sheffield Organic Growers have been unable to continue their time commitment to Outdoor Learning and School Gardens. The knowledge and experience they have provided has been invaluable.
As we move towards summer, with better weather for outdoor learning visits, we are pleased to report that our new project partner is Freeman Biodynamic Farm at High Riggs. Teachers from Nether Edge and Valley Park Primary Schools visited the site this month in preparation for pupils beginning a set of three visits to the farm.
Project overview
DECSY and Freeman Biodynamic Farm are supporting primary school pupils in Sheffield to gain hands on experience of an organic farm, paired with classroom learning surrounding sustainability based on those experiences.
This project takes primary school children to a local organic farm to give them the experience of hands-on learning in the outdoors and to learn where their food comes from. During the year these visits will be paired with classroom learning that will introduce ideas and debates around healthy eating, climate change and sustainability. Finally, this learning will be put into practice through the creation of a growing area on location at the school.
This project is being made possible by generous support from The Ernest Cook Trust, The Nineveh Charitable Trust and The Open Gate Trust.
Freeman Biodynamic Farm
Located in Stannington, bordering the Peak District, the Freeman Biodynamic Garden provides fruit and vegetables for Freeman College, Brentwood Specialist School and the Fusion Cafe. Thanks to much hard work over the last three years High Riggs has been changed from a disused tree nursery to a new highly productive market garden. The garden also provides Freeman College students with experience in learning how to run a vital food service and working in the community.
Project update – October 2018
Sheffield Organic Growers have visited two project schools to support them in preparing to create vegetable growing areas in the school grounds. Pupil visits from two project schools to the Sheffield Organic Growers site are being arranged for the Autumn term.
Sheffield Organic Growers (SOG)
Sheffield Organic Growers are a group of independent certified organic growers, on a 12-acre site, situated in the Moss Valley on the outskirts of Sheffield. They grow produce that they sell through independent grocers in the city. The growers are certified by either the Soil Association or the Bio-dynamic Association. All the growers are united in their drive to support the local community, environment and economy and aim to reconnect people with where their food comes from.     sheffieldorganicgrowers.com