P4C and the ethical importance of freedom and responsibility – video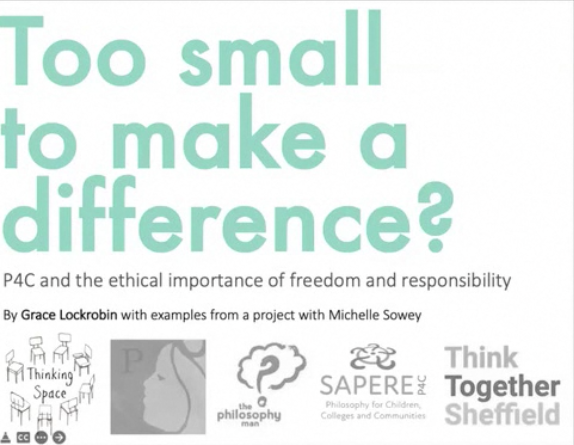 At DECSY's AGM on 4th May, our guest speaker, Grace Lockrobin spoke about Philosophy for Children and the ethical importance of freedom and responsibility. Click here for a video of Grace's 20 minute talk: https://youtu.be/k6YtKxhXJIE
'Ethical enquiry and the importance of freedom and responsibility'
Ethical enquiry involves creating an environment of freedom and responsibility — with respect to what we believe to be true and what we do as a result. This short talk explores some of the ways to optimise freedom and responsibility drawing on examples of dialogue with children around the climate and ecological emergency.Click here for the talk Abstract by Grace Lockrobin
Grace is Co-Director of the national charity SAPERE. Founded in 1992, SAPERE introduces educators to P4C — a philosophical pedagogy that encourages learners to be critical, creative caring and collaborative thinkers.
Grace is also the founder of the public philosophy not-for-profit Thinking Space; a Board Member of the European philosophy network SOPHIA and a member of the editorial board of the Journal of Philosophy in Schools.
Until recently, she was also a Teaching Fellow at the University of Leeds, where she ran a philosophy outreach project with local schools and was awarded a Fellowship of Advance HE. Grace is currently writing up a PhD in Philosophy of Education at University College London's Institute of Education where she was awarded an Economic and Social Research Council scholarship. Her research is on ethics education and the importance of philosophical enquiry through stories. Grace's co-edited book Philosophy and Community: Theories, Practices and Possibilities was recently published by Bloomsbury. Grace lives in Sheffield with her husband and two young sons.