DECSY has developed a variety of educational resources. A list of these will be available soon and can then be ordered using the order form. We offer convenient payment options. You can pay by cash, cheque, BACs transfer or PayPal.
FREE to download: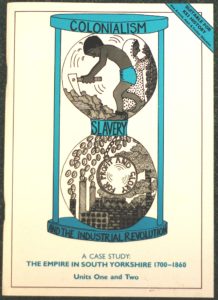 Colonialism, Slavery and The Industrial Revolution. A Case Study: The Empire in South Yorkshire 1700 – 1860
This teaching resource receives consistently outstanding reviews and is a useful resource for Key Stage 3 History Content Study Unit: Britain, 1745 – 1901 (History in the National Curriculum, 2014)
'This is the best teacher resource I've encountered, not just in relation to this topic, but across all of my teaching. I have been using this resource consistently for 15 years, first as a secondary history teacher, and subsequently as a PGCE tutor. It incorporates multiple perspectives, provides real (and really interesting) source material and includes some fantastic classroom activities that work brilliantly. I'd recommend it to anyone teaching history as a key resource.'  
Lee Jerome, Lecturer in Education, Queen's University, Belfast.
Download the resource as a pdf: C, S and IR – Unit 1+2
Overview of coverage of key stage 3 SUBJECT CONTENT Study Unit: Britain, 1745 – 1901 C,S+IR-national_curriculum