Learning from a pandemic and funded training sessions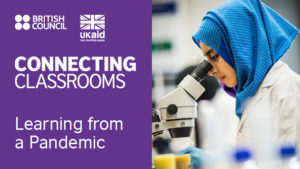 Learning from a pandemic is a newly published resource commissioned by the British Council. DECSY staff have been one of the main authors of the resource.
The resource can be downloaded for free from: Connecting Classrooms through Global Learning
The resource will help teachers make a contribution to a recovery curriculum in schools, and beyond this, by providing interesting, engaging and relevant content that encourages pupils to recall, discuss and process some of their thoughts, feelings and memories.
It is designed to support the United Nations' Global Goals for Sustainable Development (SDGs), in particular Goal 3: Good health and well-being         
For more information on the project page: https://www.decsy.org.uk/project/learning-from-a-pandemic-teaching-resource-and-funded-training-sessions/